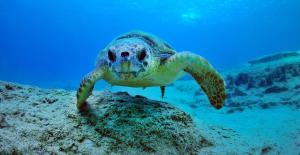 Why the Turquoise Coast Environment Fund?
Turkey has a wide variety of habitats and species that makes it one of the most biodiverse countries in its geographical zone. Turkey has a wide marine biodiversity, with the presence of endangered species like the Mediterranean monk seal and the loggerhead marine turtle.
However, Turkey also faces a broad range of environmental pressures derived from population growth; tourism and coastal developments; of over and illegal fishing; overall effects of industrial and maritime transportation activities such as pollution, eutrophication; climate change; and invasive alien species among others.
In Turkey, existing funding directly available for local conservation initiatives, especially community level actions and local NGOs is very limited. Under the umbrella of the Conservation Collective, the Turquoise Coast Environment Fund (TCEF) is set up to respond to this urgent need. TCEF aims to fund and deliver projects to preserve, protect, and regenerate natural environments in coastal and marine areas of Turkey.
The TCEF will support local groups and initiatives both through direct funding and by helping raise funds from other sources. The aim, ultimately, is to ensure that the TCEF's own grants and the funds raised from other individuals and organisations are used to implement practical and sustainable solutions on the ground, with local stakeholders and communities being the primary beneficiaries.
Upon commission by the Conservation Collective, TCEF completed a scoping study about the Aegean and Mediterranean regions of Turkey. Drawing on past and recent studies of the area, key marine and coastal ecosystems were assessed, and the main environmental issues identified.
A set of cross-cutting themes apply and enforce the other thematic intervention areas such as issues that are related to freshwater systems, climate change, Invasive Alien Species, social inclusion, environmental education & awareness raising among others.