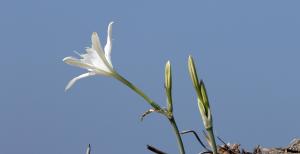 Grants
Biodiversity conservation and ecosystem services
Improving Environmental Awareness with Resisting Gökçeada Salt Lake Wetland
180,000 ₺ awarded
Status: ON-GOING 
Project duration: November 2022-October 2023 
The issue 
Due to the increasing anthropogenic pressures in Gökçeada Salt Lake Wetland of National Importance of Gökçeada -the largest island of Turkey and located in the Aegean Sea – the high biodiversity and water quality are under threat. More than 71% of the world's wetlands have been plundered in the last century before their importance was known. Although there is an action plan effected in 2021, the construction of new hotels, initiatives to drill water wells, and quarry permits, demonstrate the importance of public awareness for protecting the area and benefiting from ecosystem services in a sustainable manner.  
The solution 
With this project, local people, including tourists, will take part in the scientific monitoring of the area, thus understanding the importance of biodiversity by using on-site observations and media.  
Outcomes 
Raising  public awareness: Areas with different usage characteristics such as Absolute Protection Zone, Controlled Use Zone, Sustainable Use Zone were established by the Wetland Management Plan. However, where these areas begin, and end is not known to the local people. It is also unclear which activities can or cannot be carried out in these areas. Through awareness raising signs and posters across the region, information will be given to both the local people and tourists. In fact, it will be ensured that users with a high level of environmental awareness will contribute to conservation actions. Moreover, local stakeholders will be included in the monitoring of the Wetland Management Plan to ensure their collaboration and understanding.
Engaging tourism establishments, locals, young people, children, and farmers
Impacts 
Increased understanding and perception on the importance of the Salt Lake Wetland of Gokceada

 

Well informed public about the biodiversity and nature values of the island 

 

Implemented actions with the conservation measures and actively engaged key stakeholders

 
About the organization
Water Ecosystems Conservation Association
Water Ecosystems Conservation Association carries out its activities in Çanakkale in order to protect all kinds of living in the seas, inland waters, coastal and transitional areas, and the aquatic nature covering these areas.